Cinderella
(PG)
Cate Blanchett, Lily James
- 1 hr. 45 mins..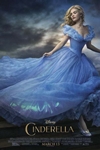 The story follows the fortunes of young Ella whose merchant father remarries following the tragic death of her mother. Keen to support her loving father, Ella welcomes her new stepmother Lady Tremaine and her daughters Anastasia and Drizella into the family home. But when Ella's father suddenly and unexpectedly passes away, she finds herself at the mercy of a jealous and cruel new family. Ella could easily begin to lose hope. Yet, despite the cruelty inflicted upon her, Ella is determined to honor her mother's dying words and to "have courage and be kind." And then there is the dashing stranger she meets in the woods. Unaware that he is really a prince, not merely an employee at the palace, Ella finally feels she has met a kindred soul.
Official Site
Trailer
---
In the Heart of the Sea
(PG-13)
Chris Hemsworth, Cillian Murphy
- .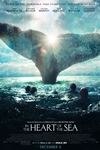 In the winter of 1820, the New England whaling ship Essex was assaulted by something no one could believe: a whale of mammoth size and will, and an almost human sense of vengeance. The real-life maritime disaster would inspire Herman Melville's Moby-Dick. But that told only half the story. This film reveals the encounter's harrowing aftermath, as the ship's surviving crew is pushed to their limits and forced to do the unthinkable to stay alive. Braving storms, starvation, panic and despair, the men will call into question their deepest beliefs, from the value of their lives to the morality of their trade, as their captain searches for direction on the open sea and his first mate still seeks to bring the great whale down.
Official Site
Trailer
---
The Divergent Series: Insurgent
(PG-13)
Shailene Woodley, Theo James
- 1 hr. 59 mins..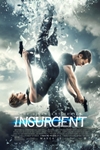 This film raises the stakes for Tris as she searches for allies and answers in the ruins of a futuristic Chicago. Tris and Four are now fugitives on the run, hunted by Jeanine (Winslet), the leader of the power-hungry Erudite elite. Racing against time, they must find out what Tris's family sacrificed their lives to protect, and why the Erudite leaders will do anything to stop them. Haunted by her past choices but desperate to protect the ones she loves, Tris, with Four at her side, faces one impossible challenge after another as they unlock the truth about the past and ultimately the future of their world.
Official Site
Trailer
---
Home
(PG)
Jim Parsons, Rihanna
- 1 hr. 36 mins..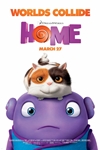 When Oh, a loveable misfit from another planet, lands on Earth and finds himself on the run from his own people, he forms an unlikely friendship with an adventurous girl named Tip who is on a quest of her own. Through a series of comic adventures with Tip, Oh comes to understand that being different and making mistakes is all part of being human. And while he changes her planet and she changes his world, they discover the true meaning of the word HOME.
Official Site
Trailer
---
Furious 7
(PG-13)
Dwayne Johnson, Vin Diesel
- .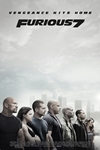 Official Site
Trailer
---
The Moon and the Sun
(NR)
Pierce Brosnan, William Hurt
- . Official Site
Trailer
---
Monkey Kingdom
(G)
- .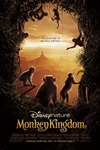 Disneynature's new feature film set among ancient ruins in the storied jungles of South Asia. Maya's world is forever changed when she welcomes her son, Kip, into her complicated extended family. Like all families, Maya's has more than its share of colorful personalities - and she's determined to give her son a leg up on the social ladder. When their longtime home at Castle Rock is taken over by powerful neighboring monkeys, Maya's whole family is forced to relocate, where she uses her street smarts and ingenuity to lead them to untapped resources amidst strange new creatures and unsettling surroundings. Ultimately, they will all have to work together to reclaim Castle Rock, where Maya can hopefully realize her dreams for her son's future.
Official Site
Trailer
---
Unfriended
(NR)
Shelley Hennig, Moses Jacob Storm
- 1 hr. 22 mins..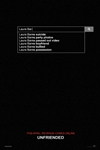 This film unfolds over a teenager's computer screen as she and her friends are stalked by an unseen figure who seeks vengeance for a shaming video that led a vicious bully to kill herself a year earlier.
Official Site
Trailer
---